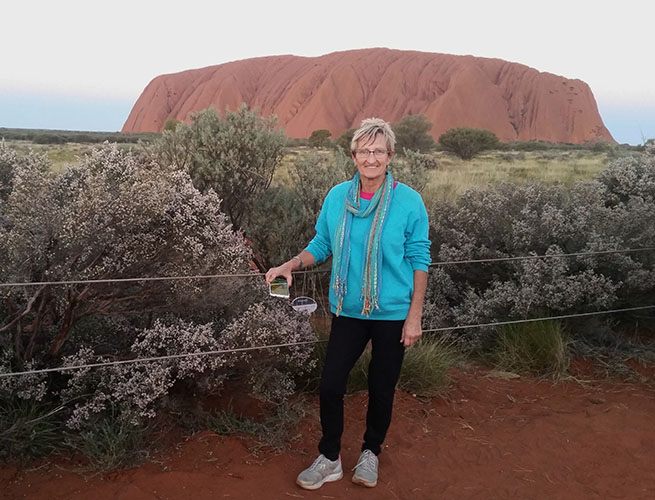 Photo of  Jenni at Uluru standing beside
Pukara (desert heath-myrtle)
We have  travelled our country visiting, Her unique land and Her historical trees. Yet one cannot help to notice the beautiful Iconic 'native' aromas 
For our family's health and well-being we are now using around 30 Australian essential oils and being such a part of our life we are growing Australian Essential Oils & Essential Oils………….
Australian Essential Oils and Botanical Gifts sells 100% Pure & Natural Australian Botanical Essential Oils from Australian trees and bushes.
"Our trees and bushes, grown in our country, under our sun, in our climate and in locations
where the trees are happy and healthy."
Some products are harvested from the wild whilst others are ethically farmed.
Lovingly produced by Australian farmers and exported world-wide..
Everyone's journey is personal and we all heal in different ways. With this in mind, it is our aim to share our knowledge with as many people as we can about the history and benefits that Australian Essential Oils from NATURE can bring to our state of well-being.
We describe our well-being as the four pillars of health:
Physical, Mental, Emotional and Spiritual
and our sense of smell affects our foundation in all four.
We invite you to join our journey to Health & Wellbeing and to "UN-LOCK THE POWER of SMELL"
 We hope you enjoy your Australian experiences and learn a little more about our Australian products, our history and some trivia along the way.
It is a pleasure for us to bring it to you.
Thank you for visiting Australian Essential Oils.
With Love and Gratitude Jenni
Australian Essential Oils are passionate about all things related to Australia.  In particular what makes us Australians.
Therefore we are "ON THE ROAD to Health & Well-Being" for Happiness".  After all, is that not everyone's destiny ?
Join us "ON THE ROAD" and discover what Australia's unique gifts offer everyone for Health, Well-being and Happiness"
What does this mean to us?:
Her colour, from the Mountains to the sea and the towns in between. Her history, Her legends, Her Poems and
of course her trees and bushes.  For it's It's when the hills look blue and our eucalypts sway,
we hear that certain sound and then  "that certain smell."  For it is then, we truly know the "Spirit of Australia."